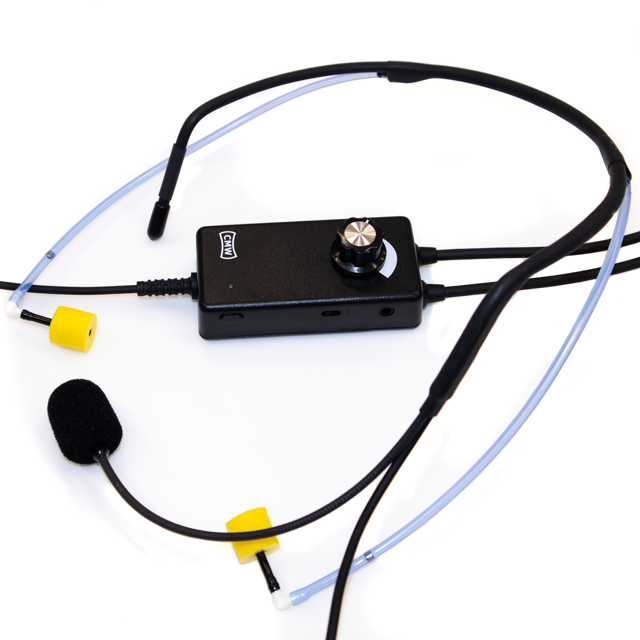 NEW! Now available with Bluetooth featuring our unique "auto pause" comm priority function only available in the CQ Headset with the smallest and most compact integrated bluetooth control of ANY aviation headset.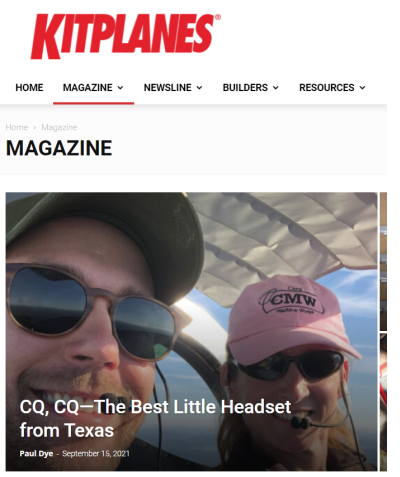 See the featured article about the CQ Headset in the November issue of Kitplanes magazine.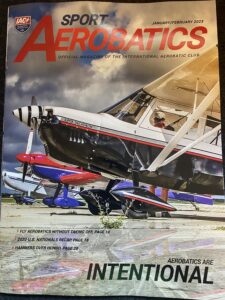 Scott finds himself an accidental cover model for a recent issue of Sport Aerobatics while preparing to fly a sequence at a contest. The CQ Headset really excels when the G's build. There were numerous other contestants that had already discovered this and were quite interested in talking about their experience with their CQ Headsets.
The CQ1 headset is the headset we want to fly. The speakers we like, the mic we love, a stiff but adjustable frame, light on the head, and a user-friendly control assembly.
Through a decade of using other in-the-ear headsets, we found features we liked as well as many frustrations, some minor and some major. A plan was set in motion to do something about it. The collaboration among the experimental aviation community took hold, and with engineers, machinists, assemblers, logistical experts, and our passion for the aviation community, along came a headset that corrected the frustrations.
Our headsets are designed and developed in Texas and are proudly made in the USA by active pilots that actually fly.
For the perfect balance in complex mixed headset cockpits, our customers appreciate that the CQ1 is the only in-the-ear headset that has a user adjustable microphone gain. Flying around the world in everything from air carriers in A320 and Boeing 777, to corporate Bombardier jets, to the fun spectrum of Vans RVs and Piper Cubs, the CQ Headset fills the bill.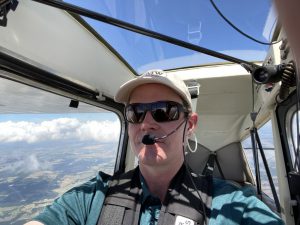 Features
Noise Cancelling Microphone – Our exceptionally high quality noise cancelling microphone makes a big difference in its ability to filter out cockpit noise. The CQ1 microphone element is also the smallest on the market.


Read More

The CQ Headset microphone and its associated circuitry performs quite a bit differently in a noisy cockpit environment than most other types. If you are familiar with the annoyance of the mic opening the intercom when you didn't intend, then you can understand why fixing this was a major goal of ours. Maybe you find yourself avoiding or pointing the air vent just right so that it doesn't open the mic? We are quite happy with our improvement to this problem. It has been a real eye opener for people that thought they loved their $1000 big name headsets. After trying the CQ Headset in the same cockpit, some have never gone back. Our CQ Headset also has adjustable microphone gain onboard. We discourage the end user from manipulating it because it is very sensitive, but it is available for those unique cases. We don't require you to send it back or order a special headset to get access to this feature. If you currently use an in-the-ear headset, next time you fly, notice the number of times that you find yourself futzing with the microphone positioning. I suspect it is more than you realize. I've dubbed this "boom spring back". Compared to other in-the-ear headsets, our microphone simply stays where you put it. This has been proven in a Pitts standard aerobatic sequence to +6 / -4G. There is a tremendous amount of boom spring back in other products. We've spared no expense to get rid of it in ours. It is surprising the little annoyances we find ourselves putting up with until we really go in search of a fix.

Microphone length – The microphone boom is longer than most competitors. This is quite a big deal for many pilots.
Fully adjustable mic gain – If you want the mic a little more sensitive or a little less, you can dial it in as you like, not just "high" or "low". Every CQ Headset has a fully adjustable mic gain via an internal trim pot.
Dual Balanced Armature Speakers – The speakers allow for clear and easy communications. Our audio output drivers are some of the smallest available and are manufactured in facilities with verifiable quality control.
Head Weight Under 3oz – The weight of the headset that is felt on the head is minimal.
Adjustable Frame – The headband is stiff but can be unbent at the ear drops in order to resize to fit comfortably and snugly.


Read More


We have intentionally avoided any moving parts in the headset frame that can only contribute to a more flimsy design, especially near the mic attachment. We prefer for our mic to stay where we put it, not flop around like a wet noodle. We also disagree with another competitor that claims that headset stability is based on an over the ear design. The rear of the frame should be stabilized or else the ears are just a pivot point that can cause frustration – just like your sunglasses have three points of attachment to your head. The frame of the CQ Headset is the perfect balance of stiffness and flexibility. It isn't so rigid that it can't be formed for your head just as you like in order to be comfortable for a full day of flying. It also isn't so flexible that it won't hold it's shape in order to provide a stable platform for the microphone and stay perfectly on your head during the bumpiest of airshow performances. We know about these two different kinds of flying and how the headset performs in each. Other products have gone to one extreme or the other in their frame design.

Kevlar Core Cables – Both our airframe and headset cables have been reinforced with Kevlar since the beginning. They will NOT deteriorate and come apart over time.
Durability – No wires are attached at the ear tips, so they are not damaged with the repeated rolling action needed for proper ear tip insertion.
No Batteries Required – Since this is a passive approach of keeping noise out instead of an active approach of trying to electronically cancel out noise, no batteries are needed, but excellent noise reduction in the aircraft environment is obtainable when ear tips are inserted correctly. Of course, the Bluetooth version uses an internal battery for the advanced Bluetooth functionality.
3.5mm aux audio input – External audio input source into the headset.
Multiple Methods of Wearing – Wear the headset over the ears or around the crown of the head or a hatband to avoid interference with sunglasses and reduce weight on the ears.
Wear Sunglasses and Hats – Because there are no ear cups or large band over the top of a pilot's or passenger's head, it is easy to wear hats and sunglasses that would normally disrupt the seal of ear cups.
Easy Transport – The headset is small and lightweight so it can be easily transported whether it be just back and forth to the airport or traveling to far off locations.
Headroom – There is no large band over the top of a pilot's head, allowing for more headroom than a traditional headset. We're pilots and know the value of not having stuff on top of your head when you get in real turbulence or a snug high performance cockpit..
We are committed to every detail of our headset. For example, our wire lapel clip has positive cable retention which is clearly superior to many that you'll find with other products.